December 9, 2010
Hey Folks! Hope you all had a good week. Please continue to use all of the features that the site has available, such as chat and the forums. Thanks for your patience with all of the site issues this past week. I hope that everyone like the new look of the site. If you find yourself having issues with anything, just let me know and I'll get to work on it. (Let's have a round of applause for my woman! She's done great things with the site!! Love you, Darlin'.)
Thanks!
Char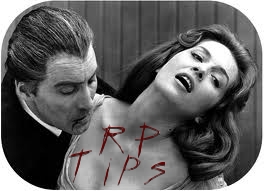 If you're looking for some new followers, feel free to pimp (*sniggers* pimp!) yourselves out using some of the fantastic RP pimps out there. Of course the site will continue to do what it does in attempting to garner followers for you all. Here's just a few of the pimps out there that are not site-affiliated.
@YourPimptress @Ready_n_Waiting @ThePimptress_ @TwilightRPPimp @Lady_Pimptress @Lord_Pimper @Peter_Pimper @Single_n_Looken @MrMateFinder @MrsMateFinder
Funny Finds
I've been thinkin a lot this week, granted it's mostly been to do with Char and what position to put her in next, but in between all the sex and fuckery and the drama that poor River has been put through...it occurred to me that we have a site that we can do more or less whatever we want with.
WE'RE NON CANON, BABY!
So...that means different parings, different vampire attributes (i.e. the fact that we can get drunk...because come on! What would forever be like if we couldn't get drunk? *shudders*), and whatever plot line that we want.
All within reason and of course with the permission of my Char. Trust me; you
really
don't want to get on her bad side.
A good example of the little changes that we can make was when Peter discovered the amazing effects that Aftershock Red has on a vampire's sexy bits. Yes, ladies and gentlemen; Aftershock really does give vamps aftershocks. Whoever thought that clumsiness in the middle of a strip club would come in so handy? *grins*
Oh, and the Wifey wanted me to stress that there will be no babies. Personally, I think that's a bit prejudice...but you don't argue with Wifey.
-Peter
Storyline for the Week of 12/10/10
Well, last week was sure fun to watch play out. Can't wait to see this week!
(Speakin of...I think we should start the collection now to raise money for the therapy that River's gonna need by the end of it. Poor girl.)
Jane--Your storyline involvement will be sent via private message.
Maria--Your storyline involvement will be sent via private message. (BOOOO HISSSSSS)
Emmett--You and Rosalie are gonna need to be there for Alice. She's going to need to know that you guys still consider her a sister. (Yep...Half Pint is gonna be needin her big Bro and Sis.)
Rosalie--You and Emmett are going to be operating pretty much the same. You guys are going to need to help Alice. She just needs to know that y'all still love her.
Alice--Ok, you had a really tough week last week. You're gonna be needing your family. Everybody will be there for you, but Emmett and Rosalie are going to be the ones to really help you out. You will get the rest of your storyline involvement via private message. (Also...with everythin that is yet to go down, I'd stay away from River for a while. J/S)
Jasper--Marry Bella. (can i get a Hell Yeah?!) That's all you're gonna do this week. (lazy git, I'm rushin all over the damn globe with Demetri!) Just marry the girl. Oh, and you'll probably want to give the others a hand with River. (Ya think!?)
River--I'm sorry for the week you're going to have. Just let everyone help you through it all. (*comes to sit with you with a ton of chocolate ice cream and a large bottle of Bailey's* We'll get you through it, Darlin'.)
Peter (puffs up chest and dons a strong man pose)--You and Char will most likely need a little quiet time after your impromptu rescue mission. (*packs Captain Squark the parrot and Char's wench costume and readies the yacht*) Do what you need, but make sure you're taking care of River too! She's going to have a shitty week and will need her new family.
Demetri--You are going to continue to keep tabs on River to make sure that she's being kept from Maria. But, you've got a cell phone, so...you can head on back to Italy at some point during the week. Your "Boss" will be wanting you to come back. (*wipes a tear from my eye* I'm gonna miss you, Man! *grabs you into a man hug* come back soon, ya hear?!)
Charlotte--Take your quiet time with Peter, but don't forget the girls. And weren't you going to discuss the plans for the property in Texas with Bella and River? You should do that this week. (don't forget the animals!)
Bella--Get married. That's the biggie. Help River with her shitty week. Continue losing Jasper's money and having fun in Vegas. (I can help you with all that...especially losing Jasper's money.)